Paraformaldehyde, 4% in PBS, Ready to use Fixative, 5x20ml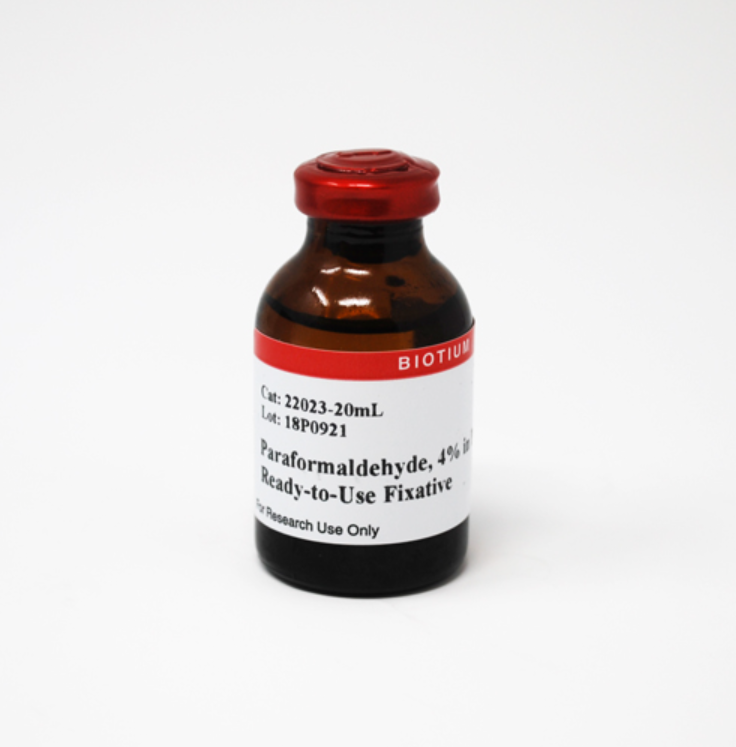 Paraformaldehyde, 4% in PBS, Ready to use Fixative, 5x20ml
Paraformaldehyde, 4% in PBS is a ready-to-use fixation solution for cells or tissues. It is electron microscopy-grade paraformaldehyde dissolved in pH 7.4 PBS with no methanol added. UV light and oxygen are known to cause formaldehyde degradation over long-term storage. Biotium's unique packaging method ensures the high quality of the formaldehyde by using amber glass vials packaged under argon gas and tightly sealed with pharmaceutical grade enclosures.
Ready-to-use fixation buffer
Methanol-free
Prepared from EM grade paraformaldehyde
Safer and more convenient than handling paraformaldehyde solid
No glass ampoules to break, store in the original bottle
Formaldehyde, formalin, and paraformaldehyde: what's the difference?
Aldehyde fixatives act by chemically cross-linking free amine groups on proteins. Formaldehyde is a commonly used fixative, but it is not stable in solution, because under exposure to light and oxygen it polymerizes and precipitates. Formaldehyde solution is commonly stabilized by the addition of methanol. The classic fixative used for pathology is 10% neutral buffered formalin, which is a solution of 10% formaldehyde in sodium phosphate buffer containing up to 1.5% methanol.
Many researchers prefer to use methanol-free formaldehyde for fixation, because methanol can permeabilize cell membranes and affect the morphology of cellular structures like the actin cytoskeleton. To make formaldehyde solution, the polymerized paraformaldehyde solid must be heated in basic water to form reactive formaldehyde. Methanol-free fixative solutions prepared from paraformaldehyde solid are commonly referred to as paraformaldehyde solution or PFA. While technically inaccurate, it serves to distinguish stabilizer-free formaldehyde solution from methanol-stabilized formaldehyde.
Paraformaldehyde solid and formaldehyde solution and vapor are toxic and carcinogenic, so preparing fresh fixative from paraformaldehyde solid is not only inconvenient, but also hazardous. Biotium's paraformaldehyde fixative is a convenient and safer alternative to preparing fixative from scratch. Our paraformaldehyde fixative is stabilized by packaging under inert argon gas in amber glass bottles.
Unlike 16% paraformaldehyde in water that is sold in score-break glass ampoules, our fixative is supplied in easy-to-open, resealable 20 mL amber glass bottles, and is ready-to-use. Unopened bottles can be stored at room temperature for at least 5 years. After opening, the solution can be stored in the original bottle for at least a month at 4°C, protected from light.