AccuBlue® Broad Range dsDNA Quantitation Kit with DNA Standards - 200 assays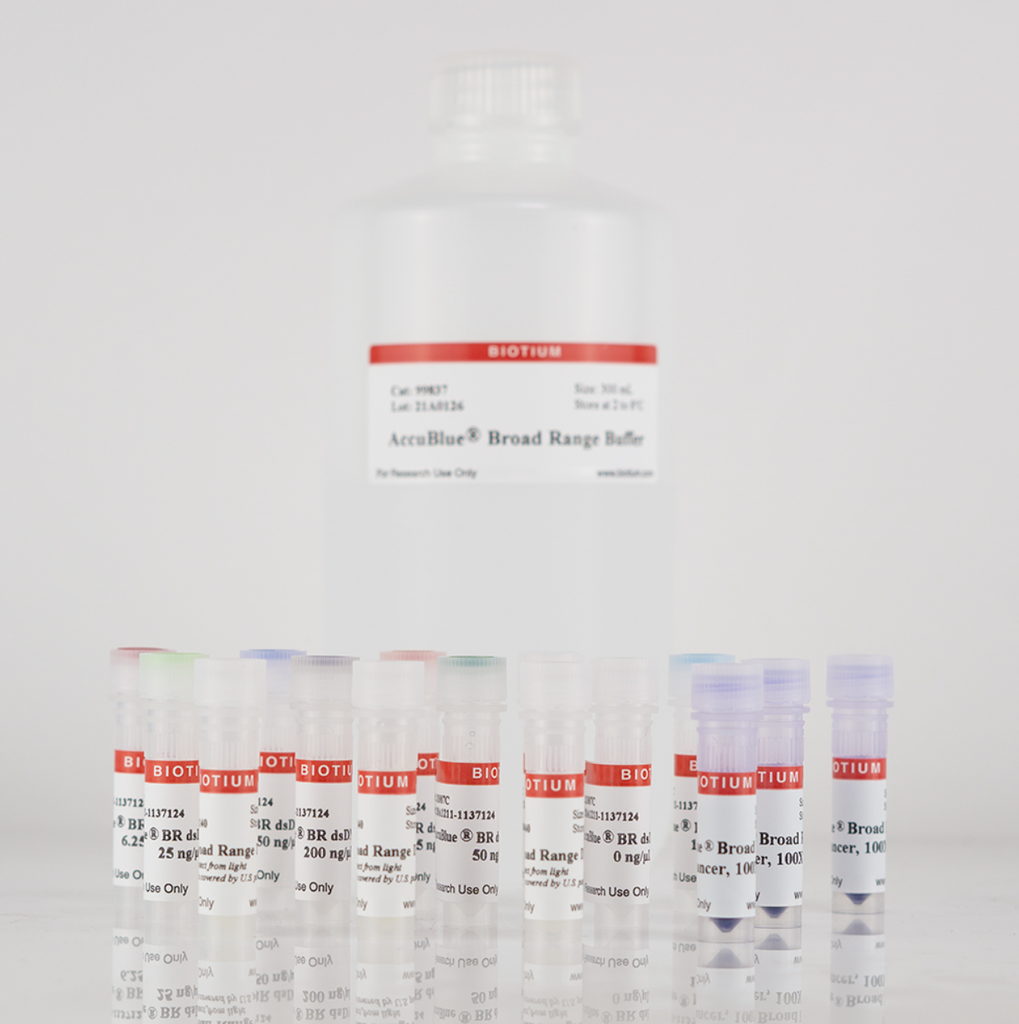 AccuBlue® Broad Range dsDNA Quantitation Kit with DNA Standards - 200 assays
PRODUCT ATTRIBUTES
| | |
| --- | --- |
| Excitation/Emission | 350/460 nm (with DNA) |
| Storage Conditions | Store at 2 to 8 °C |
The AccuBlue® Broad Range dsDNA Quantitation Kit offers sensitive and selective detection of purified dsDNA samples with minimal effects from common contaminants.  The kit provides a linear detection range from 2 – 2000 ng and is designed for use with fluorescence microplate readers. The AccuBlue® Broad Range assay is also available without any DNA standards (31009), for those that wish to use their own standard.
Features
Highly specific for dsDNA
Broad linear detection range, from 2-2000 ng
Designed for fluorescence microplate readers
Blue fluorescence emission
Kit Components
AccuBlue® Broad Range Dye, 100X
AccuBlue® Broad Range Buffer, 1X
AccuBlue® Broad Range Enhancer, 100X
AccuBlue® dsDNA Standards, set of 9 (in 1000 assay kit)
AccuBlue® dsDNA Standard, 200 ng/uL (in trial size kit)
Fluorescence-Based dsDNA Quantitation
AccuBlue®, AccuClear® and AccuGreen™ dsDNA quantitation assays allow precise quantitation of purified dsDNA samples across a wide range of concentrations and a variety of fluorescence detection instruments. Unlike absorbance-based nucleic acid quantitation, fluorescent DNA binding dyes are highly sensitive and selective for double-stranded DNA and provide a more accurate DNA concentration in the presence of contaminating RNA and other common contaminants including free nucleotides, protein, detergents and salts.
Biotium offers dsDNA quantitiation kits and solutions for different instruments and sample concentration ranges. See the table below and visit the DNA & RNA Quantitation Technology Page for details on our full line of dsDNA and RNA quantitation kits.