Recombinant AMARV GPDTM -100ug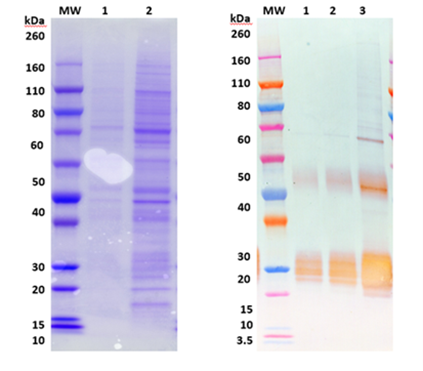 Recombinant AMARV GPDTM -100ug
| | |
| --- | --- |
| Size | 100 ug |
| Applications | ELISA, WB |
| Expression | SF9 cells |
| Purification | Column chromatography |
| Target | Marburg Virus |
Description: Mature, recombinant, His-tagged Angola marburgvirus Glycoprotein minus the transmembrane domain (MARV-Angola rGPΔTM) is supplied as purified protein. MARVAngola rGPΔTM is produced in Sf9 insect cells using baculovirus for expression and is purified by FPLC. 
Storage: 2-3 weeks at -20◦ C, -80◦ C long term Size: 100 µg of protein supplied in PBS (supplemented with glycerol, arginine and glutamic acid) at a concentration of 0.334 mg/mL. 
The theoretical molecular weight of the protein is ~60 kDa including the His-tag, without glycosylation. Because of the highly glycosylated nature of this protein, migration in an SDS-PAGE gel is slowed resulting in broad, diffuse bands representing differing glycosylation forms. 
Relevance: Recombinant glycoprotein provides a means for antibody development, control protein for testing, and a tool to enhance research. Western Blot: Quality control testing demonstrates strong detection of GP null and GP2 under reduced conditions.