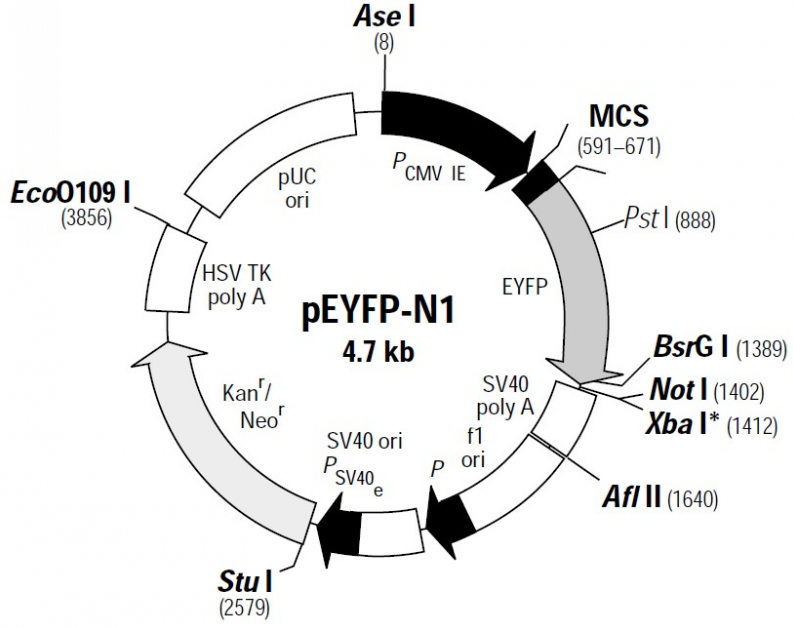 pEYFP-N1 Information
Promoter: CMV
Replicon: pUC ori, F1 ori
Terminator: SV40 poly (A) signal
Plasmid classification: mammalian cells, fluorescent protein reporter vectors
Plasmid size: 4733bp
Prokaryotic resistance: Kan
Selection marker: Neo
Clonal strain: DH5 alpha
Culture conditions: 37
Expression host: lactation cells
Induction mode: no need to induce, transient expression.
5'sequencing primers: pEGFP-C-5:CATGGTCCTGCTGGAGTTCGTG
Primers for 3'sequencing: primers designed based on sequences
pEYFP-N1 Description
pEYFP-N1 encodes an enhanced yellow-green variant of the Aequorea victoria green fluorescent protein (GFP). The EYFP gene contains four amino acid substitutions previously published as GFP-10C (1). The fluorescence excitation maximum of EYFP is 513 nm, and the emission spectrum has a peak at 527 nm (in the yellow-green region). When excited at 513 nm, the Em of EYFP is 36,500 cm–1M–1 and the fluorescence quantum yield is 0.63 (1), resulting in a bright fluorescent signal. The fluorescence level observed from EYFP is roughly equivalent to that from EGFP.
pEYFP-N1 Multiple cloning site
pEYFP-N1 Sequence
LOCUS       Exported File           4733 bp ds-DNA    circular SYN 25-1-2015
DEFINITION  .
ACCESSION   .
VERSION     .
KEYWORDS    Untitled
SOURCE      synthetic DNA construct
  ORGANISM  synthetic DNA construct
REFERENCE   1  (bases 1 to 4733)
  AUTHORS   .
  TITLE     Direct Submission
  JOURNAL   Exported 2015-1-25 from SnapGene 2.0.1